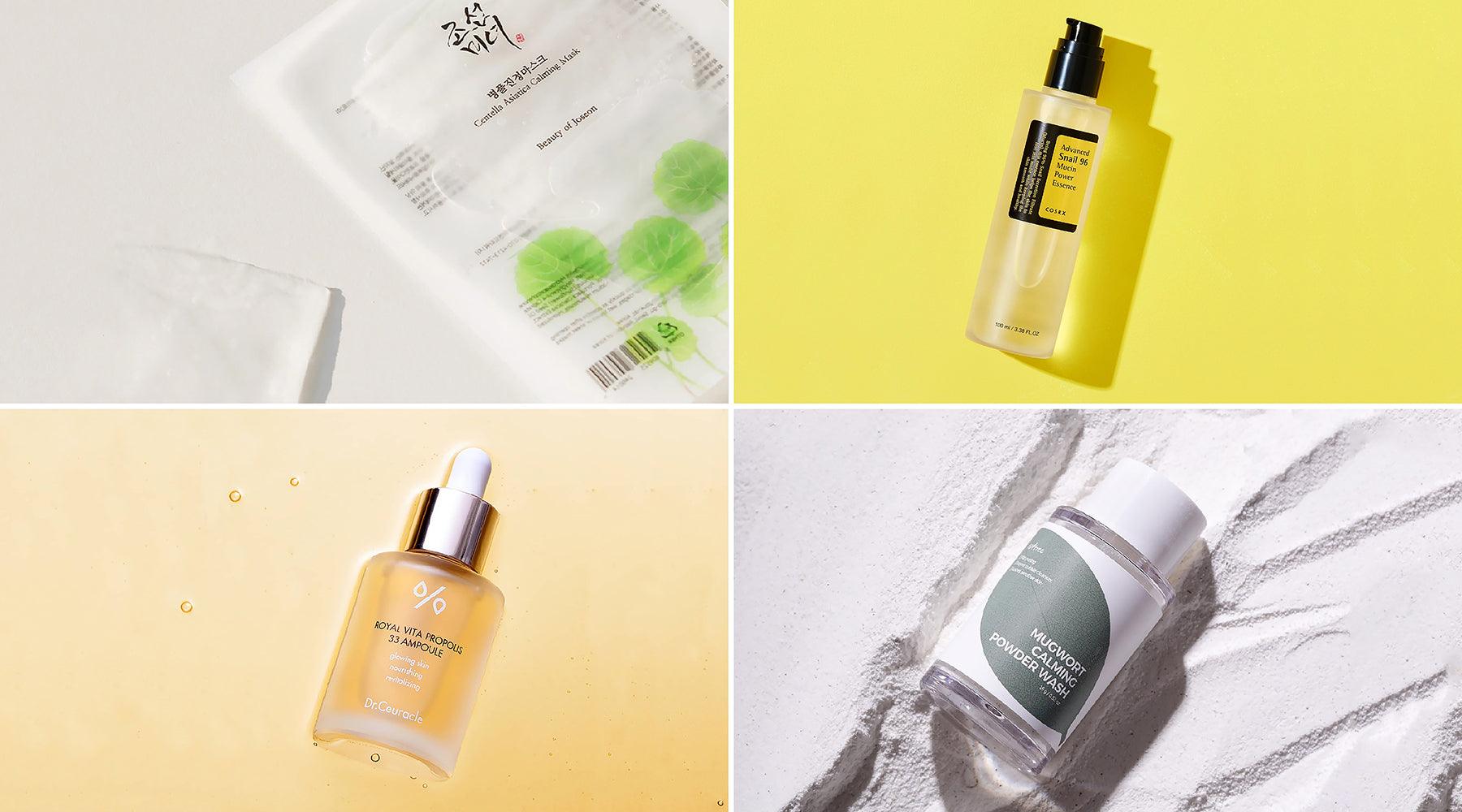 De-coding Common K-beauty Skincare Ingredients (Part 2)
The secret behind the worldwide success of Korean Beauty products is simple. Contained within each carefully-curated formula is a wealth of natural k-beauty ingredients. While each ingredient is brimming with goodness in their own right, when blended in a skincare product they are incredibly nutritious and healing for the skin, while proving delightfully compatible for all skin types from sensitive to oily.
We take at these unique Korean skincare beauty ingredients and discover what makes them so well-loved on the global skincare scene.
A Guide to K-beauty Ingredients
Aloe Vera
Aloe Vera a waxy substance that's derived from the Aloe Vera plant. As a cactus-like plant that grows in hot, dry climates, Aloe Vera stores water inside its leaves. It's this waterlogged gel-like substance that people have used to heal and soften the skin over thousands of years.
Aloe Vera is capable of keeping the plant hydrated and thriving in arid desert conditions thanks to its 98% water content. Due to this ultra-hydrating ability, it's a popular Korean skincare ingredient among those with dry or sensitive skin. That said, its anti-inflammatory properties also help to reduce sebum production in oily skin while limiting uneven complexions that are a mainstay among those with combination skin types. Applying this gel creates a protective layer over the skin, which helps retain moisture. In addition, it is rich in vitamins A, C, and E, which are all potent antioxidants that slow the process of aging.
Mugwort
In nature, Mugwort is a tall perennial flowering plant reaching over 120cm. As a medicinal plant, it's well-known for its ability to treat digestive problems, irregular menstruation, and high blood pressure.
 Mugwort extract is infused into Korean beauty products, delivering soothing and anti-inflammatory benefits deep within the skin's layers. Mugwort is especially popular due to its ability to target flaky, irritated skin effectively, making it a favorite among those with dry skin. Dermatologists also consider Mugwort a suitable treatment for skin conditions such as eczema and psoriasis, which is compatible with even the most sensitive skin types. 
Centella
Centella Asiatica, also known as Gotu Kola, is a type of herb native to Asia that's named for its medicinal properties. Its powerful extract has been used in folk medicine for hundreds of years and in scientifically oriented formulas that have found their way into the Korean beauty industry. 
As a popular k-beauty ingredient, Centella can naturally improve scratches, burn marks, and heal wounds. At the same time, it reaches deep into the skin's cells, enhancing collagen production while acting as an anti-inflammatory that's particularly useful for those suffering from conditions such as eczema or psoriasis.
Due to its organic nature, Centella is compatible with all skin types and even suitable for skin prone to rosacea. It also contains porous powder to help control excess sebum for oily/combo/acne-prone skin.
Snail Mucin
Perhaps one of the most intriguing k-beauty ingredients, Snail Mucin, as the name would suggest, is essentially snail extract. It's the clear, waxy excretions these creatures use to protect themselves from wounds and scratches while speeding up the healing process. With these natural features considered, it's no surprise that Snail Mucin has become a popular addition to Korean skincare and beauty products over the past decade.
It is suggested to have hydrating, antioxidant, antimicrobial, wound healing, and anti-aging properties and is suitable for all skin types. 
Propolis
Propolis is a resinous, waxy substance that bees create to fight infections and heal wounds. It's also known as "bee glue" as it contains adhesive properties that help bees to build their hives.
When used as a k-beauty ingredient, Propolis lends its adhesive properties to naturally holding the skin's cells closer together, tightening the skin for a firmer, fuller, and more youthful appearance. 
Propolis also smoothes out wrinkles and has anti-aging properties. Antioxidants such as phenolic compounds and flavonoids play a huge role here, which can minimize the damaging and aging effects of free radicals on the skin. In addition, Propolis provides moisture for those with dry skin. It is even recommended for those with oily skin due to its lightly absorbent properties that help to keep skin clear and oil-free.
Licorice Root
Licorice root is cultivated throughout Europe, the Middle East, and Asia. Licorice root may have potent antioxidant, anti-inflammatory, and antimicrobial effects. It was used traditionally for treating various health conditions such as lung, liver, and circulatory diseases.
Today, Licorice Root has earned its spot as a popular K-beauty ingredient due to its powerful antimicrobial properties that make it indispensable in anti-acne skincare. Alongside its spot-fading abilities, Licorice root can also soothe the skin by easing irritation. It can also help lighten dark marks while brightening skin tone.
Rice Bran
Rice bran (RB) is a nutrient-rich by-product of the rice milling process. Rice bran oil is also used as a "healthy oil" in Japan, Asia, and particularly India. 
It claims its spot as a popular k-beauty product due to its high levels of Vitamins B and E and its excellent hydrating and anti-aging properties. The main benefit of rice bran to the skin is its wonderful deep-moisturizing effect, alongside evening out the skin tone while minimizing the appearance of dark circles and puffiness.
While this k-beauty ingredient is excellent for all skin types, it's especially great for skin struggling with redness and dry patches, as it helps soothe and soften. It's also perfect for moisturizing the skin, keeping it nice and supple. 
Ginseng Root
Ginseng, otherwise known as "man-root" due to its distinct human-like shape, is a popular herb used as a therapeutic remedy worldwide due to its healing and health benefits. Ginseng Root can strengthen the immune system and help fight off stress and disease. 
Due to its healing properties and high nutrient content, many people swear by Ginseng Root as an anti-aging and health-boosting ingredient for the skin. However, Ginseng Root is best known for its skin-brightening abilities. It has been shown to reduce fine lines and wrinkles that create shadows on the face while stimulating circulation around the skin. This combination of good circulation and lack of lines can boost skin evenness and brightness. Ginseng Root also fights against hyperpigmentation like dark spots and age spots. 
If sensitive skin is your worry, ginseng's natural anti-inflammatory properties help quell redness and puffiness. 
Finally …
K-beauty ingredients are unique in their natural and powerful ability to treat the skin while improving its appearance. As you can see from above, each ingredient has its own benefits and appeals, which make Korean skincare products some of the most high-quality and sough-after on the market.
 Now that you have learned more about some common ingredients found in K-Beauty products, you can use your new found knowledge to shop for skincare products best suited to your needs. Happy Shopping!
 Don't forget to read Part 1 to get the lowdown on other common skincare ingredients and their benefits.